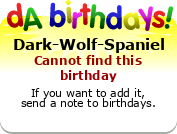 Please note that guys, commissions, requests and art trades are closed. ONLY for those who are on Very Close and Close friends section who can get requests sometimes.
































Ask something!

Making a ask blog.For BOTH DeviantART and Tumblr, i will be making a new ask blog. Which involves Spaniel's puffle companions. Since these puffles got a break, i decided to take some aice for 'em. If 3 of them were absent for the ask, then they must be on the wait list for them to come back.
Backstory though: I was inspired by one of the inactive accounts on Tumblr which is also based on puffles to be asked, but apparently it got inactive. Maybe a person is killed off or didn't feel like it anymore, but i dunno, but is worth it.
So i decided to make a temp ask questions before i have problems with school. Now i am able to keep my promise to take it into Generation 2 of puffle-blogging-asks. Don't worry though, These puffles from the Generation 1 will be add as a cameo. Along with other puffles from other fellas.
































"Iiiiiiiiiiiiiiiiiiiiiiiiiittttttt's SHOWTIME!!!" -Showtime from lupisvulpes' show AUDIENCE.


!AUDIENCECRAFT!

"Showtime has turn the whole Minecraft world into the chaos of the undead! This adventure has full of crazy textured mobs that have gone chaos! Will you stop Showtime's demonic Ender Dragon or will you be Showtime-bait!?"

Characters, styles and elements belongs to

lupisvulpes


----------
I decided to make a Minecraft texture pack since AUDIENCE episode 1 is finished. This is for the fans of Minecraft and LupisVulpes.
But i need help! That's right. I need YOU to Make ideas for the texture.
NOTE:
I also need to turn the tamed wolf's collar into an armor. So i need you guys give an idea.
I wanted to make the horse's texture very different and similar to AUDIENCE style.
Help me with the blocks in Minecraft by drawing one of the blocks. Like for example: Cobblestone, grass and such...
I don't need to draw animated stuff though. Help!!
EDIT: Here's the update:































Work in Progress:

Gift for lupisvulpes
Not started yet.

Is been a long time.